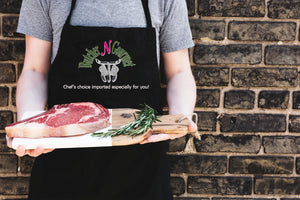 Certified US Angus Beef
prime cuts
Gourmet boxes
About Us:
ButcherNgourmet import high end meat products from US, Europe and Australia. Our product offering consist of branded beef grade such as organic, wagyu, lamb, chicken and other poultry products. Our product range is delicately selected to provide our customer the satisfaction delivered to their doorstep. We believe on the quality and standard on every cut of our high end meat.
Beef Cuts Information:
Cuts of beef. are first divided into primal cuts, pieces of meat initially separated from the carcass during butchering. These are basic sections from which steaks and other subdivisions are cut. The term "primal cut" is quite different from "prime cut", used to characterize cuts considered to be of higher quality. Since the animal's legs and neck muscles do the most work, they are the toughest; the meat becomes more tender as distance from hoof and horn increases.